Gerçek News Agency
---
US Navy SEAL acquitted of murder and war crimes in Iraq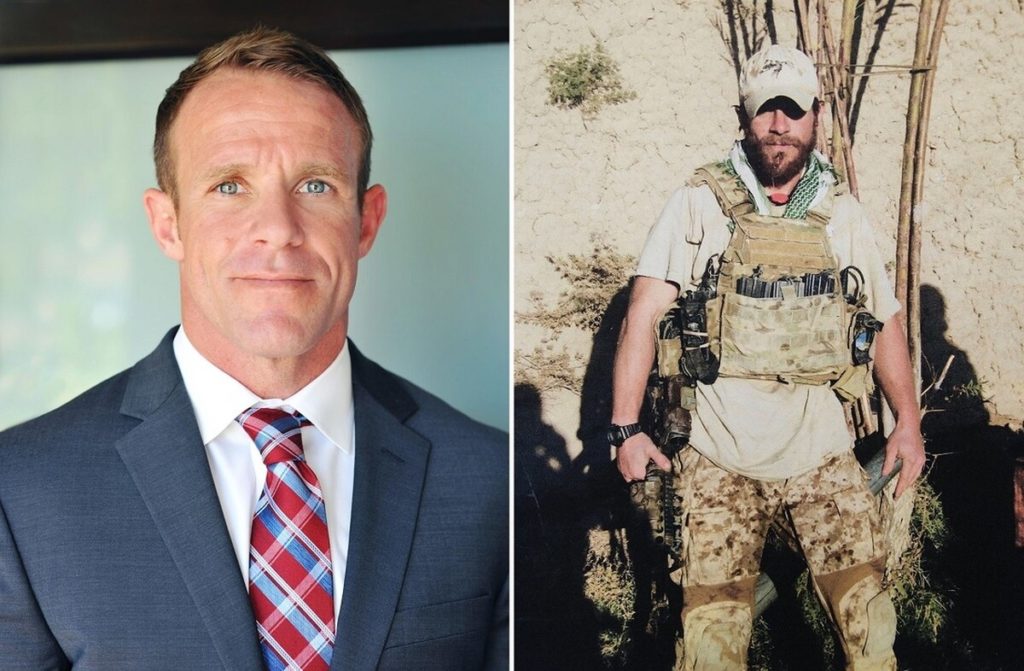 A member of the US Navy special forces, the SEALs, was acquitted on July 2 of fatally stabbing an ISIS fighter in Iraq in 2017, according to the World Socialist website. The SEAL, Edward R. Gallagher, was tried by a US military court. Gallagher was charged with stabbing the teenage ISIS fighter to death after he had already been taken prisoner and disarmed. Gallagher was charged with many other offences, including threatening other SEALS who testified against him, calling them "traitors". Gallagher had also been investigated for killing a young girl in Afghanistan back in 2010. It is clear that Gallagher is one of the military psychopaths US imperialism has come to rely on all over the world. Right-wing figures in the USA, including Congressmen, campaigned for his release and acquittal.
26.06.2019
June 23, 2019Once again in the middle of the night, the People's Law Bureau (HHB) was raided and Ebru Timtik, Nadide Özdemir, Ayşegül Çağatay and Görkem Ağdede were detained under torture.
It was presented to the media as a major operation – a total of seven people were detained – Gülser Sarıgül, clients Kamile Kayır, Oya Arslan's brother Özhan Arslan and others. The walls were demolished, the doors were broken, fascism attacked them in accordance with its own nature, and they used the news as an attempt to sow fear among the people and lawyers. But in no way can fascism accuse the revolutionaries. With the wanted lists they produce overnight, they turned Kamile Kayır into the object of a hunt, with a price on her head, "dead or alive", which could result in her being murdered. A woman who has devoted her whole life to revolutionism, who was one of the 1996 Death Fast veterans, who came out of the hell of December 19, who put shrouds on the corpses of her comrades and was now targeted with lists. Under the oppressive conditions of fascism, secrecy is a right of the people, neither Kamile Kayır, nor the lawyers, employees and visitors to the HHB, who were its guests for the night, can be accused. Revolutionism and being a revolutionary lawyer has been made a crime by AKP fascism. It has used medieval methods, witch hunts, nearly 300 revolutionaries and friends of revolutionaries have been detained and arrested … HHB lawyers were arrested, quickly sentenced to a total of 159 years of imprisonment, even families were taken hostage in order to punish their daughters… Each of those detained in this operation has shown that the AKP's intimidation policies HAVE COLLAPSED. Those detained in the first operation are in the same place, relatives of lawyers, in the same place… Fascism cannot intimidate the revolutionaries by using any means of pressure and force, a tradition that has grown from the massacres, the events like December 19, and the resistancs cannot be ended by jailing revolutionaries.
Down with fascism.
Long live our struggle.
Revolutionism is not crime, it is an honour!
We do not accept the lists, secrecy is not a crime!
Anti-imperialist front (Brussels)
02-06-2019
An envoy of US- and EU-backed collaborator Juan Guaido has been snubbed by Brazil when she presented her diplomatic credentials, according to Yahoo on May 31.Yahoo reports that régime change is not imminent in Venezuela and although Brazilian President Bolsonaro favours régime change, he and many others may be thinking that they overplayed their support for Guaido.It is true that those favoured by imperialism are expendable – for example Jonas Savimbi in Angola was abandoned and finally killed in 2002 when he outlasted his usefulness.
https://sg.news.yahoo.com/brazil-withdraws-diplomatic-invite-venezuelan-150919001.html?guccounter=1&guce_referrer=aHR0cDovL3d3dy5hbnRpd2FyLmNvbS8&guce_referrer_sig=AQAAADDRuNAVUj9Lu2oNCwgmRjlitGtJ5D4YB-XwOpdZFgL6JL9t45N0eHuA9030pZVW_eO4iUqmUeZr2VP4IfPS4zUkdsc9xwnjXve0A3sPjz7S6xFwTAAiWYENuUkKx_oaKgYAd2R1j_e_NtdkbCdiIvB42QciOI2NotJ_vUazmj-h
_______________________
An 81-year-old woman in Wales, part of Great Britain, committed suicide after her pension was stopped because of bureaucratic mistakes, according to the World Socialist website. Joy Worrall threw herself to her death after being down to her last five pounds. This unemployment and benefits system in Britain uses 'sanctions' against benefit claimants, pushing already poor people into misery and desperation. Worrall's tragedy is only the latest case of this happening.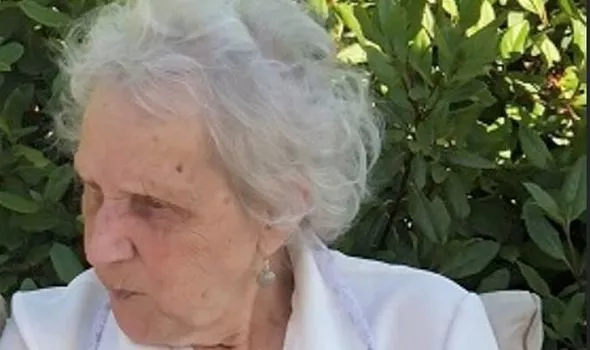 In April, a man named Stephen Smith died in Liverpool after he had been considered fit for work and had his benefits taken away even though a photograph showed him emaciated and looking like a concentration camp victim.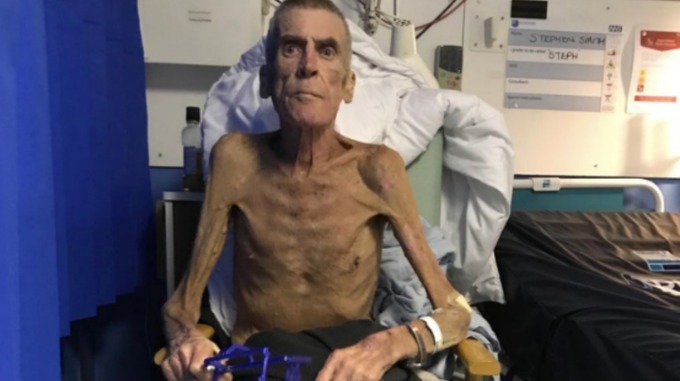 ---
ANTI-IMPERIALIST FRONT:
Mahir Mete Kul Will Live in Our Hearts
Mahir Mete Kul left us in the best years of life. He was 23 years old. Since he was a child, he was growing side by side with the revolutionaries. He was named after Mahir Çayan and Mete Nezihi Altınay who fell martyr in the mountains of Sivas. The culture and moral he received from the revolutionaries made him a honest and honourable young man.
As he grew up, he joined the struggle, he became a member of Highschool Revolutionary Youth. He fought for completely independent Turkey. He wanted free education and future without tests. Then he was unjustly imprisoned by the fascism with the help of false witnesses, and threatened with a punishment of tens of years.
He was released from the prison, yet the fear of the fascists did not hesitate to mow him and his friends with lifetime sentences. The Turkish fascist system did not give the right to live to Mahir Mete nor to other youths.
Mahir Mete's education was left half-way done. He was forced to leave the country for the sake of the struggle, and set off on the way to emigration. In order to cross the Mehriç river he took a boat which capsized.
He was buried today in Athens according to the revolutionary tradition that he belonged to.
We as Anti-Imperialist Front:
– denounce the policies of imperialism as the main enemy of the people and Turkish fascism as it's collaborator, that forces the people either into dungeons or into exile;
– condemn the anti-immigration policies which drive thousands of humans into their death while they try to flee horrors caused by the imperialist politics;
– call for solidarity with the refugees who are persecuted for their anti-imperialist and anti-fascist struggle;
– call for struggle against xenophobia and racism towards immigrant workers.
Emigration is a consequence of the imperialist exploitation, military interventions and repression by the imperialist puppet regimes. Immigration control is the basis of the imperialist world system which guarantees exploitation of the poor countries.
---
---
ANTI-IMPERIALIST FRONT ON VERDICTS AGAINST REVOLUTIONARY LAWYERS IN TURKEY
The Anti-Imperialist Front calls for the immediate release of revolutionary and progressive lawyers in Turkey.
The decisions of the courts of fascism are null and void. This is class justice, in this case the "justice" of a system that does not even heed its own laws. The court had recourse to "secret witnesses", a trend in recent years in Turkey which denies defendants even a pretence of a fair trial. No judiciary, no law, can judge the rightfulness and legitimacy of revolutionary lawyers. Rather than being a lawyer in order to lead a comfortable life, they were sentenced to between 3 and 20 years for being against injustice, for justice and honour and advocating for the people. In Turkey, the punishment is aimed at intimidating the revolutionaries who fight for justice for the people.
---
Paradise Turkey: here is the joint communiqué of all the European lawyers present at the trial of the #HHB People's lawyers and #CHD progressives
We international observers, lawyers from Italy, France, Belgium, Germany, Greece and The Netherlands, representing the Belgian Council of Bar Associations and Law Society, International Lawyers Association, Organization of Belgian Germand and French Speaking Lawyers, Brussels Bar, Liege Bar, International Association of Democratic Lawyers, European Association of Lawyers for Democracy and World Human Rights, Italian Democratic Lawyers, Italian Association of Criminal Lawyers, European Democratic Lawyers, Legal Team, French Bar Association, Central Committee of French Lawyers, Lawyers without borders France, assisted since its beginning in September 2018 to the trial against the progressist Lawyers Association CHD.
The climax was reached yesterday when the President of the Court abruptly excluded all the lawyers from the possibility to assist to the hearing.
We are shocked because of the flagrant violations of fundamental principles of rule of law such as independence of the judiciary, fair trial and right to defence.
We are convinced that at this point this trial is completely null and void.
Protesting against the heavy prison terms inflicted we insist on the immediate acquittal of all defendants, to be attained through all possible judicial and legal means.
We express our solidarity to the defendants in the name of the common struggle for upholding justice and rule of law.
Istanbul, March the 20th 2019
---
---
Letter From Imprisoned Lawyer Aytaç Ünsal: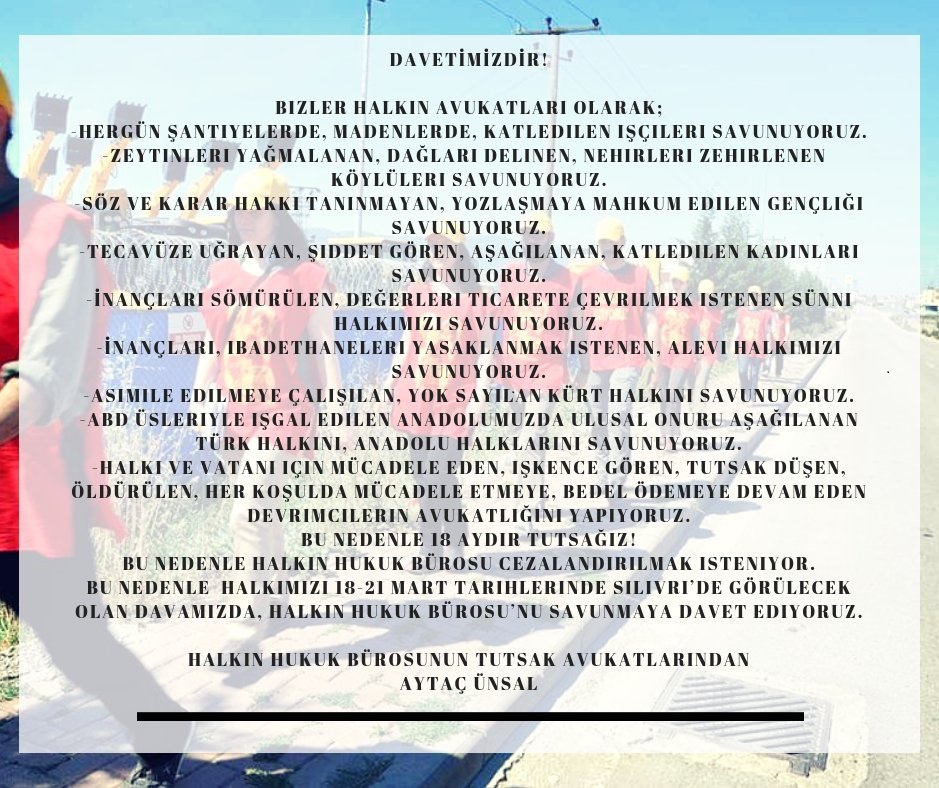 Our invitation:
We are lawyers of the people: we have defended the workers who are murdered every day on the building sites and in the mines.
We have defended villagers whose olives are plundered, whose mountains are pierced and whose rivers are poisoned.
We have defended youth condemned to corruption whose right to expression and action is not recognised. We have defended women exposed to rape, violence, humiliation and murder.
We have defended our Sunni people whose beliefs are exploited and commercialised.
We have defended our Alevi people whose beliefs and places of worship are under threat.
We have defended the Kurdish people who are disrespected and threatened with assimilation.
We have defended the Turkish people and the people of Anatolia whose national dignity is trampled upon by US bases occupying our territory.
We work as revolutionary lawyers who struggle for the people and homeland, experience torture and imprisonment, are murdered, struggle under all conditions and continue to pay the price.
This is why we have been prisoners for 18 months:
This is why they want to punish the People's Law Bureau (HHB).
This is why we invite you to our trial between 18 and 21 March in Silivri, we will continue to defend the People's Law Bureau.
One of the imprisoned lawyers of the People's Law Bureau: AYTAC UNSAL